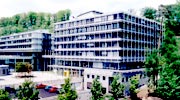 max planck institut
informatik

Homepage
---
---
Current project: Randomized rounding, derandomization. Working on the DFG priority programme 1307 "Algorithm Engineering" with Benjamin Doerr, project "Algorithm Engineering for Developing Methods in Randomized Rounding".
Parameterized complexity and kernelization
Exact algorithms for hard problems
---
Software
At the moment, the following is available:

discr_calc.tar.gz -- a set of programs for computing the star discrepancy of a given point set. In particular, contains an implementation of the Dobkin-Eppstein-Mitchell improved exact algorithm.
TA_algs.tar.gz -- Programs for estimating (lower-bounding) the star discrepancy, implementing TA_basic and TA_improved from this paper (arXiv preprint).
Routines for randomized and derandomized rounding available on request.

In all cases, see the randomized rounding project web page for details.
Teaching
---
---
---
January 2002 - May 2007:
Ph. D. student in Computer Science at Linköping University, Sweden, group TCSLab. Title of thesis: see above.
September 1996 - January 2002:
Studies in Computer Science at Linköping University, Sweden
Title of Master's Thesis: An algorithm for finding minimum transversals in rank 3 hypergraphs (supervisor: Prof. Peter Jonsson).
June 1996:
High school graduation, Karolinska Skolan, Örebro
---