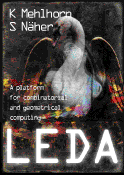 The LEDA Platform of Combinatorial and Geometric Computing
Cambridge University Press, 1999.

The book treats the architecture, the implementation, and the use of the LEDA system.. <!The LEDA system is in use at more than 2000 sites in the world, see our <! <!download statistic <!.

Studenten der Universität des Saarlandes sollten mein Sekretariat wegen einer Hörerreduktion kontaktieren.

The book has about 1000 pages and is divided into 14 chapters. The ps-files of some chapters follow.
---
---
Prof. Dr. Kurt Mehlhorn
Max-Planck-Institut für Informatik
Algorithms and Complexity Group (AG1)
Im Stadtwald
66123 Saarbrücken
Germany